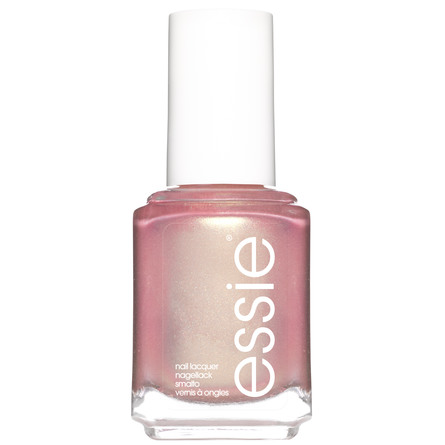 Findes også i disse varianter
essie
Neglelak
633 Cheers Up
Kun 20 dage tilbage - Se alle
På lager - Afsendes inden for 1-2 hverdage
På lager - Afsendes inden for 1-2 hverdage
På lager i 202 butikker.
for at se status i din Matas
DU OPTJENER 10 POINT hos Club Matas
Findes også i disse varianter
essies Midsummer-kollektion leder tankerne hen på svenskernes største og mest traditionsrige højtid.
Tag din blomsterkrans på og nyd de lange lyse dage og nætter, mens du danser om majstangen med essie.

Farverne i kollektionen indeholder de perfekte farver til dit midsommerlook: en flot pastelgul nuance (summer soul-stice), en romantisk perlemors lyserød (cheers up), en skinnende hvid med glimmer (sip sip horray), en festlig rød med glimmer (let's party), en sprudlende blommefarve (flowerista) og en koral pink (stones n' roses).
Indhold:

1 stk

Enhedspris:

99,95 kr./stk

Mærke:

essie

Varenummer:

745008
Fri fragt til Matas butik: Ved køb for min. 99 kr.
Fri fragt til alle leveringsformer: Ved køb for min. 399 kr.
Vi tilbyder følgende leveringsformer:
Matas - Afhent i butik
PostNord - Levering til privatadresse
PostNord Pakkeboks
DAO - Levering til privatadresse (Kun brofaste øer og Bornholm)
GLS - Levering til privatadresse
GLS - Levering til arbejdsadresse
GLS Pakkeshop
Burd Delivery - Aftenlevering til privatadresse til udvalgte postnumre
Du har 30 dages fortrydelsesret, når du handler hos os.
Du kan returnere dit produkt op til senest 14 dage efter du har meddelt os, at du ønsker at fortryde dit køb.
Kundernes vurdering
4,7 ud af 5
9 anmeldelser
Cecilie, 24 år fra Ikast
Fin hverdagsfarve
Lækker pensel som dækker neglen godt, to tynde lag og så er man "good to go". Rigtigt flot shine og en farve der passer til meget.
Cecilie anbefaler dette produkt
Kaja, 63 år fra Erslev
Neglelak lige mig
Nem at påføre og holder i flere dage. Godt køb
Kaja anbefaler dette produkt
Tina, 56 år fra Vejle
Holdbar lak
Nem at påføre. God pris. Kvalitet skøn. Husk to og overlak som gør den endnu stærkere
Tina anbefaler dette produkt
Jane, 25 år fra Kolding
Farvenuancerende som forventet
Rigtig flot neglelak, der ser ud til at nuancere i farven alt efter, hvilken vinkel man ser på den fra. Den er super flot, og præcis som forventet.
Jane anbefaler dette produkt
1 kunde fandt denne anmeldelse brugbar
Hjemmelevering

Afsendelse 1-2 hverdage

Byt i 270 butikker

Mere end 1000 brands

30 dages returret